I worked at Lucent Technologies from February 1998 to April 2000. For the first year I spent most of my time learning Intelligent Networking and how it was related to the Service Management System (SMS).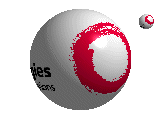 My duties included, but were not limited to the following:
Conducted Training Analysis, Job Function Analysis, and Task Analysis for SMS training classes.
Responsible for managing small to medium sized training classes. Included project plan development, work break down structure, issue escalation, matrix management of instruction project team, and interface with SMEs and project/implementation groups.

Translated engineering baseline requirement documents into ACTIVIEW® Users Guides for Lucent's major Telecommunications customers and Lucent's support personnel.

Created HTML web pages for on-line help documentation after collaboration with Lucent's Systems Engineering department utilizing Adobe FrameMaker 6.0 software.

Created software documentation of GUI screen descriptions and tasks used by systems engineers to provision Intelligent Networking applications.